An international container terminal, a factory run by robots, a power plant, all places where every minute of downtime has a huge impact. In such 24/7 environments, you don't depend on an employee on pager duty to be alerted in case of a critical outage, wake up and get in their car. Of course, you instead have a team of professionals on location, who can intervene immediately to minimize production loss. You'd lose sleep as a CEO if that wasn't the case.
Strangely, most companies, including larger organizations, have set up their cybersecurity according to the above pager duty model. Truly incomprehensible, as cold statistics tell you that ransomware, data theft or cyber sabotage are a great threat to continuity than the traditional calamities that we do adequately deal with. Especially in the current geopolitical climate and the constant arms race with advanced criminal hacker organizations.
Where do you find these top specialists, how do you keep their knowledge up to date, how do you make sure they have hands-on experience with calamities?
Where do you find these top specialists, how do you keep their knowledge up to date, how do you make sure they have hands-on experience with calamities?
A 24/7 Security Operations Center as an alternative
Fortunately, there is a practical and affordable alternative for the IT professional on pager duty. A 24/7 Security Operations Center can be purchased as a service for a fixed monthly fee. Unfortunately, the offerings of these so-called Managed Security Service Providers aren't always transparent.
Despite the promise of a 24/7 SOC, how do you avoid ending up buying just another pager duty model? Which will only set you back, as now the pager isn't even in the hands of one of your own employees.
Why your IT outsourcer
is not a cybersecurity specialist
Do you think your overall IT vendor is on 24/7 standby and has the expertise to solve a serious security problem?
We don't think so, and are happy to explain to you in this PDF why we think so. And also why world-class cybersecurity is still attainable for any organization.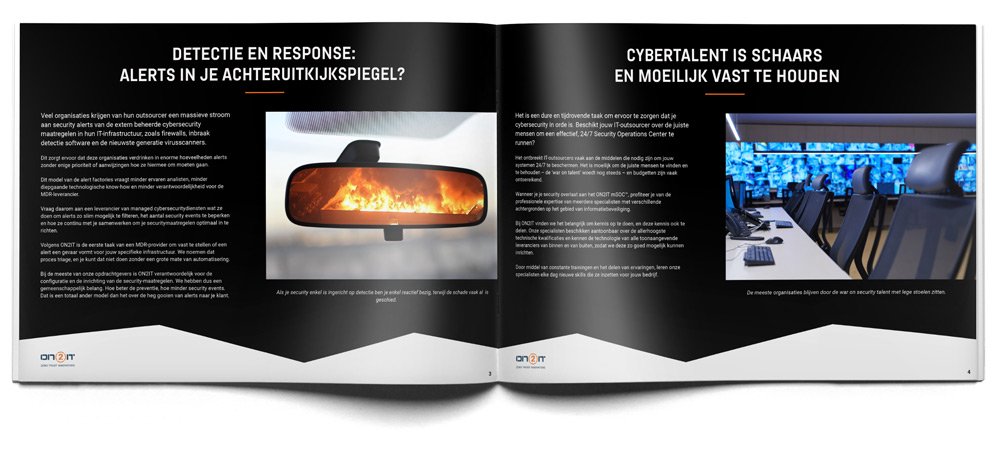 So, what requirements does a SOC provider need to meet?
A reliable managed 24/7 SOC provider needs a proven track record and reputable customers who have been using their SOC for many years. ON2IT is such a provider.
Our specialists have proven to have the highest technical qualifications and know the technology of all leading vendors inside and out, so we can set it up in the best way possible.
We invest in our own advanced software to use AI and deep learning to process alarm notifications as smartly as possible, and have an emergency response team available to our customers within minutes. We employ internationally known experts, including John Kindervag, the founder of the Zero Trust approach.
And because we design our processes super-efficiently, we can offer our services for a monthly fee that is typically less than a single internal FTE. This puts world-class cybersecurity within reach of mid-sized organizations as well.