Resources
The digital library for Zero Trust cybersecurity.
The zero trust dictionary
An authoritative lexicon on Zero Trust terminology
Zero Trust is everywhere. Everyone is talking about it and writing about it. That's why we have summarized the most essential information about authentic Zero Trust in one authoritative lexicon. If you're looking for structured information about this security strategy, this is a must-read.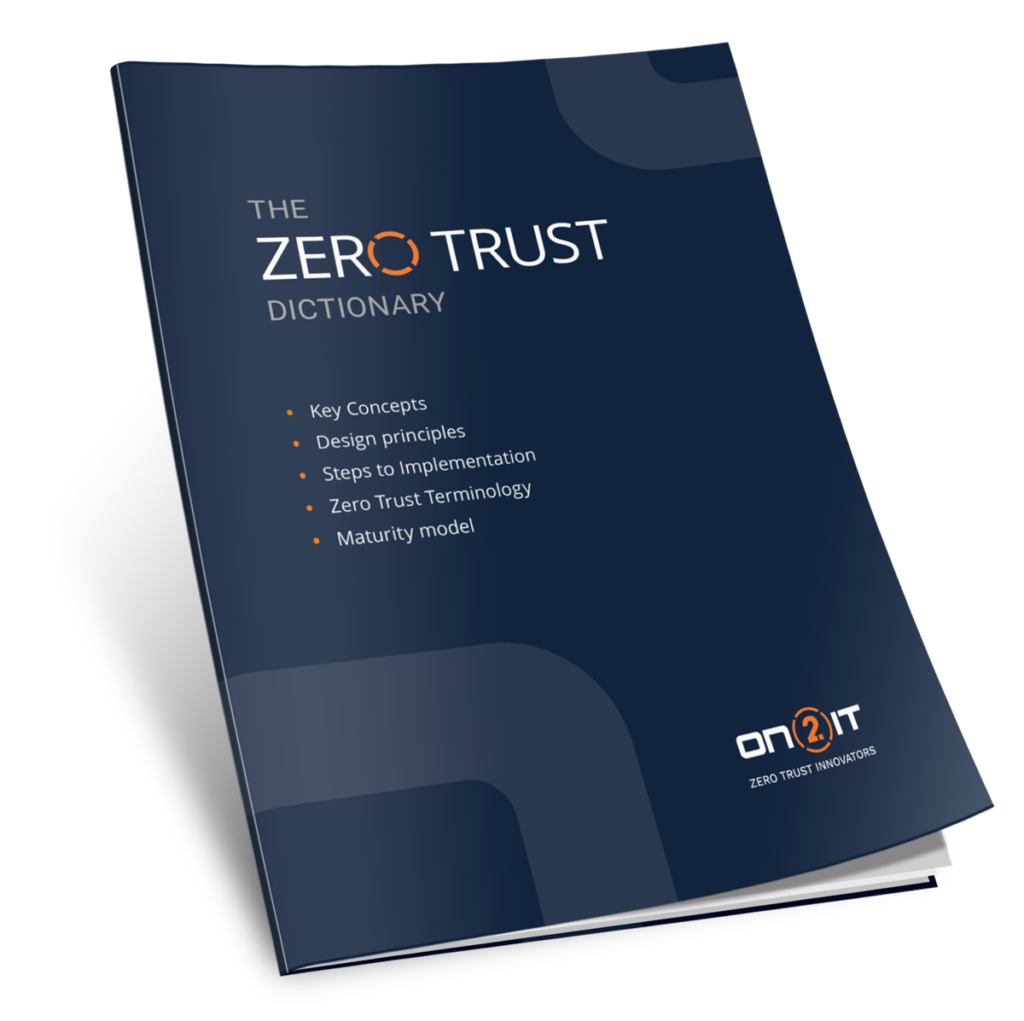 Guides & Papers
whitepaper
How Zero Trust eases the compliance burden
This paper examines the complexity of both implementing Zero Trust and ensuring compliance with regulatory standards and frameworks.
whitepaper
Fifty years of Zero Trust lessons
This whitepaper takes a look at what lessons we have learned from many years of Zero Trust implementation.
whitepaper
A hands on approach to Zero Trust implementation
This whitepaper looks at what the logical place to start is for Zero Trust implementation and walks you through the five steps of the Zero Trust strategy.
whitepaper
How Zero Trust reduces data breach costs
The cost of data breaches today is immense – both for organizations and for society. This includes a conceptual approach to reduce the cost of a data breach
whitepaper
Why a Zero Trust strategy stops data breaches
Using Log4j as an example, this tech paper delves into how Zero Trust helps you face unknown threats.
Datasheets & Infographics
Infographic
A Zero Trust Primer
A clear infographic that depicts the Zero Trust design principles, the 5 steps and Zero Trust as a Service.
DataSheet
Fast-Track your Zero Trust Cybersecurity
The ZTaaS capability provided by ON2IT and Palo Alto Networks brings together leading cybersecurity technologies and expertise to create the market's most advanced SOC technologies.
DataSheet
Zero Trust as a Service
The unique Zero Trust as a Service approach combines expert services and proprietary Zero Trust AUXOTM platform.
DataSheet
Zero Trust Fast Track
Our Zero Trust Fast Track is designed for organizations that are ready to get started, quickly and efficiently.
DataSheet
Zero Trust Coaching
Our Zero Trust Coaching is designed especially for organizations that seek ongoing guidance and support.
DataSheet
Zero Trust Readiness
Our Zero Trust Readiness will help you understand the core tenets and benefits of Zero Trust, asses your current position and build the right Zero Trust roadmap for your unique environment.
Featured Blog articles
By John Kindervag
No More Sucking Chest Wounds
The world of cybersecurity continues to have a battlefield littered with sucking chest wounds that go untreated. We are too passive. Too afraid of action. Too intimidated to do the right thing for our organization. There are a ton of excuses for this…
By prof. Yuri Bobbert
Lessons learned from over sixty years of combined Zero Trust implementation
Practical lessons gathered from six experts in the field with a collective experience of over sixty years of actually implementing Zero Trust. The first article in this series focuses on designing the protect surface.
By Johan Bogema
Using more security products won't solve your cybersecurity problem
Should you be taking a data-centric perspective on your security, with business goals in mind? Or is it easier just to add more products to check the boxes and make sure you pass the yearly audit